Inside the Pack: 2019 Topps Archives Review
Feeling nostalgic for the good old days of collecting? Like on card autographs? Want a set that has both old and new players? Then as usual, Topps Archives is the set for you.
Topps sent me a box of 2019 Archives to review. As someone who collects both vintage and modern cards, this is always one of my favorite releases each year. Archives typically consists of three card designs from years past. This year's designs are 1958, 1975, and 1993. While I'm not a huge fan of the 1975 design in general, 1958 is one of the most attractive designs of all-time, and it works very well on newer issues as well. The 1993 set isn't one I ever gave much attention to, and I wasn't excited about its inclusion, but I ended up LOVING it, even more than the 1958 design. The set is made up of 300 cards, divided equally between the three designs.
As always, there are inserts in Archives. Ichiro Retrospective cards reprint the future Hall of Famer's precious Topps cards with a special stamp on the front. Topps also used the 1975 design for two inserts — 1975 Minis and 1975 Highlights — as well as the 1993 design for Topps Rookies and the 1958 design for All Stars. Although not a member of the base set design, Archives leans on the 1994 design for two inserts, the 1994 Future Stars and the 1994 Topps Magazine cards. The latter was one of my two favorite insert sets, due mostly to the fact that this isn't a design Topps has ever used for cards in the past. My other favorite insert set was the Montreal Expos 50th anniversary, done up in the 1969 design. Stars from throughout the since-relocated team's history appear with a 50th Anniversary stamp.
Anot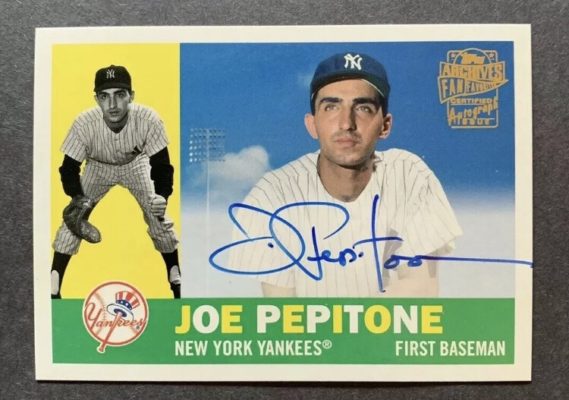 her inclusion I really appreciated was the 1993 Topps Gold parallel. I received Marlins second year player Brian Anderson, one of my favorites from my favorite team. The design is from when I first started collecting, and the Topps Gold set was one of my favorites growing up. I had a team set of the inaugural Marlins from the 1993 Topps Gold set, so getting a Marlin was exciting.
Fan Favorites autographs appear two per box and true to their name, they are always popular. The on-card signatures feature both retired players and current players on older card designs. I received a Joe Pepitone on the 1960 design and a Jody Davis purple parallel on the 1983 design. Unlike the base cards, autographed cards of older designs are still on glossy card stock, rather than the older vintage-type stock.
Base cards also have parallels. The best of these is the gold 1/1 parallel, but there are also blue #/25, silver #/99, and purple #/175. I received a blue Yadier Molina parallel of the 1958 design.
Archives is one of Topps's lower-priced products, but packs a punch with its two guaranteed autographs, piles of base cards, and fun inserts and parallels. Grab yourself a box of Archives and take a trip down memory road and check out some memorable designs with plenty of added twists.