Top 10 Wrestling Controversies
1) The Montreal Screwjob:
Without a doubt one of the most controversial incidents ever in professional wrestling history, The Montreal Screwjob was the off-screen betrayal of Bret Hart by WWE owner Vince McMahon. It all started when then WWE Champion Bret Hart announced that he was leaving WWE and going to rival company WCW. Hart refused to drop the championship to Shawn Michaels due to him not showing Bret any respect. After several weeks of negotiations, Vince and Bret agreed that he would retain his title by disqualification and vacated it the next night, letting Hart leave on his own terms. However on November 9, 1997, at Survivor Series in Hart's home country of Canada, during the match (when Shawn Michaels applied Bret's signature Sharpshooter on him) Vince had the referee immediately ring the bell and declare him the new champion, even though Bret never tapped out. The match holds the legacy as the most public double-cross in professional wrestling history and is still debated over by fans to this day, especially about whether or not Shawn Michaels was in on Vince's plan to take the title from Bret.
2) The Curtain Call:
The famous "Curtain Call" at Madison Square Garden was an incident that changed the wrestling world forever and would involve The Kliq (Scott Hall, Kevin Nash, Shawn Michaels, Triple H and Sean Waltman). They were a group of wrestlers in WWE who were best friends in real life, but rivals in the ring and had a lot of influence which they used to benefit their careers. On the last night of Nash and Hall's contracts before leaving for WCW (May 19, 1994), after a steel cage match between Michaels and Nash, Hall, and Triple H would enter the ring leading to a group hug between the four, an act that broke character in front of the live crowd in MSG. This incident forced major wrestling promotions to acknowledge the story-lines and on-screen persona of wrestlers that they had worked to protect, especially after footage of the Curtain Call was leaked online.
3) The Finger Poke of Doom:
This infamous incident nicknamed "The Finger Poke of Doom" happened on January 4, 1999, and is perhaps best remembered as being the turning point in the "Monday Night Wars" (a ratings rivalry between WWE's flagship show Raw and WCW's flagship Nitro!) shifting in the WWF's favor. It would involve the world championship main event match between the leaders of rival New World Order (nWo) factions, the current champion Kevin Nash of Wolfpac and Hollywood Hogan of the Hollywood faction. During the match, Hogan would poke Nash's chest and Nash would over-sell it massively when he collapsed in the ring, not only giving Hogan the title win but also reuniting the nWo faction while angered fans threw trash and debris into the ring. Also during the broadcast WCW revealed the results of Raw's main event (which was taped a week prior), where Mick Foley (as his Mankind persona) won the WWF Championship. This stunt that was meant to discourage viewers from switching over to Raw, but instead made 600,000 viewers switch to Raw to watch Foley's title victory. The incident was referred to by many fans as the most scandalous title match in professional wrestling history and would ultimately lead to the fall of WCW.
4) Mass Transit Incident:
On November 23, 1996, A wrestler by the ring name Mass Transit was severely injured and required immediate medical attention during a tag team match at an Extreme Championship Wrestling house show. Erich Kulas, a 17- year-old wrestling fan, convinced ECW owner Paul Heyman to let him be the last minute replacement for a tag team match that night after lying about his age and experience. He said that he was 23-years-old and that he was trained by retired professional wrestler Killer Kowalski, which were vouched for by his father and a wrestler there who Kulas had met earlier. Prior to his match, he asked one of his opponents if he could blade him (intentionally cutting to cause bleeding), however, he would accidentally cut him too deeply and Kulas was escorted out of the arena and rushed to a hospital. After the incident, ECW was forced to cancel an upcoming pay-per-view for a few months and Kulas family filed a lawsuit against ECW and the wrestler responsible for the blading but ECW was acquitted after the fan turned wrestler's lies came to light.
5) Heroes of Wrestling:
This pay-per-view event, Heroes of Wrestling, featured wrestling stars from the 1980s and was meant to capitalize on the popularity of professional wrestling at the time. However, it would suffer numerous controversies and poor buy rates. One of the many controversies was that they had to replace their previous color commentator, a well known and respected figure in the wrestling world, at the last minute with someone who didn't know anything about professional wrestling. All throughout the night, he would consistently mess up info about the wrestlers and misname basic wrestling maneuvers, giving the worst color commentary in professional wrestling history. The biggest controversy at the event was actually its conclusion, it involved Jake "The Snake" Roberts coming out intoxicated before his match. Roberts was supposed to deliver a promo but instead went into an incoherent rant and stumbled around culminating in an attempt to make out with his signature snake. The promoter would try to salvage the situation and make it look like Roberts behavior was planned, but he was too inebriated to understand what was happening and the show was forced to cut the broadcast short when he started disrobing live.
6) The Muhammad Hassan Controversy:
Towards the end of 2004, WWE introduced a new wrestler to their roster who went by the ring name Muhammad Hassan. His gimmick was that of an Arab-American wanting relief from prejudices caused by the 9/11 attacks. Throughout the first half of 2005, Hassan had some big feuds and was slowly rising up the ranks in WWE due to his promo skills and ability to draw heat from the crowd. There was even talk about getting him a world title reign. All of that changed on the July 4 taping of Smackdown, when Hassan along with 5 masked men would attack and choke out The Undertaker as part of their feud. This unfortunately aired the same day as the London Bombings. The angle has been referred to as one of WWE's most controversial moments and has resulted in negative media attention and public backlash, which in turn led to the WWE writing Hassan off and his eventual dismissal from the company.
7) Shane Douglas NWA title speech: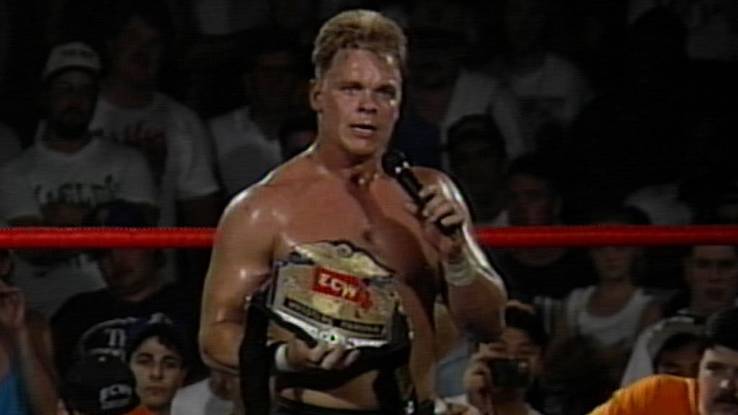 NWA (National Wrestling Alliance) affiliate Eastern Championship Wrestling (Extreme Championship Wrestling at the time) offered to hold a tournament for the NWA World Heavyweight Championship, which had been vacated due to WCW leaving NWA months earlier. What the NWA didn't know was that Tod Gordon (ECW's owner) and Paul Heyman (ECW's booker) were planning to use it to publicly break away from the NWA. On August 27, 1994, the winner of the tournament (ECW Heavyweight Champion Shane Douglas) would start to give an acceptance speech after being awarded the title during during which he would discredit the title, throw it on the ground and declare his championship the world championship of ECW. Two days later, it was announced that ECW had officially left the NWA and was renamed Extreme Championship Wrestling, while Douglas' actions went down as one of the most controversial moments in wrestling history and the beginning of ECW becoming a worldwide phenomenon.
8) Pillman's Got a Gun:

On the November 4, 1996 episode of Raw, Brian Pillman was involved in an infamous angle with his former tag team partner Stone Cold Steve Austin. At first, he acted as Austin's manager until he started favoring his nemesis Bret Hart, which eventually led to Austin turning on Pillman. After several weeks of feuding, Austin decided to take matters into his own hands and head to an injured Pillman's home while he was being interviewed live on television. After subduing his friends who were outside, Austin broke into Pillman's house where he would instantly grab his gun and point it at Austin. The screen cut out after that before returning to see Austin being forcefully removed by Pillman's friends as Pillman pointed the gun at him and threatened to kill him. The angle was described as too real and dramatic for TV which led to WWE and Pillman apologizing for the whole incident.
9) Billy and Chuck:
Towards the end of 2001, Chuck Palumbo and Billy Gunn would form a tag team and would slowly start to show signs that they were a couple. They would wear matching red ring-gear, bleach their hair, Chuck wore pigtails before he cut his hair, they even had a personal stylist (fellow wrestler Rico) accompanying them to the ring as their manger/occasional tag partner. In September 2002, Chuck proposed to Billy and he accepted, however during their commitment ceremony, they both admitted that the ceremony was a publicity stunt that went too far and that they were both straight. The Gay & Lesbian Alliance Against Defamation (GLAAD) were furious at WWE for the storyline, especially after they had acquired GLAAD's help in getting mainstream media attention for their ceremony storyline.
10) Undertaker crucifies Steve Austin:
Two of the Attitude Era's biggest stars (Stone Cold Steve Austin and The Undertaker) would be the center of a controversy hailstorm on December 7, 1998. After their tag team match, The Undertaker attacked and knocked out Austin, allowing his druids to carry and tie him to The Undertaker's symbol on top of the stage. Despite being careful not to mention anything about crucifixion on television, several Christian groups were still up in arms at WWE claiming what they did was very offensive to their religious beliefs.