Collecting on a Budget Part 1
This is the first in a series of articles I'll be calling "Collecting on a Budget".  In this installment I will be looking at a few potential prospect bargains in baseball that are still out there for the taking. Most collectors of hopeful "future stars" are already familiar with the top ranked players according to MLB.com. Good luck at this point, however picking up an autographed Vlad Guerrero Jr., Fernando Tatis Jr. or Eloy Jimenez card for under $40-50. If there ever was a time to grab these guys without breaking the bank, it has long passed.  However, with the end of the 2018 minor league seasons, come some lower ranked prospects that came up bigger than expected in their respective leagues.  Let's take a look at some of the Most Valuable Players throughout the minor leagues in 2018 and what cards are available from them.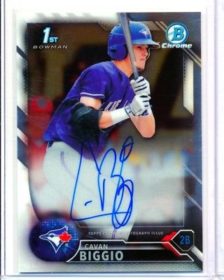 Cavan Biggio:
With such budding superstars as Vlad Guererro, Jr. and Bo Bichette waiting in the wings, it's no wonder that the offspring of another MLB legend is often overlooked in the Toronto Blue Jays' farm system. Only presently ranked as the team's #9 prospect, Cavan Biggio (son of Hall of Famer, Craig) took home the hardware as the Eastern League's Most Valuable Player this season.  Some past Eastern League MVPs of note are Vlad Guerrero Sr., Jeff Bagwell, Mark Grace and Rafael Palmeiro. Playing for the Jays' AA affiliate in New Hampshire, one could argue that Biggio may still not be ready for the Big Show. His 148 whiffs this season were the second most in the league. This naturally contributed to his batting average being a rather unimpressive .252 on the year. However, who needs batting average, when you can get on base and hit for power at the rate Biggio did? Despite his less than stellar BA and huge strikeout total, he managed to show enough plate discipline to walk 100 times this season. That number was over 61% more than anyone else in the league, which led to his .388 on base percentage, which was good enough for third. His power numbers, though, are what solidified his MVP status. After failing to hit a single home run in 2016, and only managing 11 last season, he smacked 26 this year which was enough to pace the Eastern League.  His .499 Slugging Percentage also led the way, while he placed 2nd in runs scored (80) as well as runs batted in (99). To top it all off, he also swiped 20 bases, which was good enough to put him in a tie for tenth place. Until he can bring down his strikeout totals, he may not be ready for Toronto. However, the marked improvement he's shown in each of his first three seasons is enough to have him on your collecting radar. You may not want to risk $100 on one of his 1st Bowman Chrome #'d BGS 10 autos. However, his 2012 USA auto relic cards can still be had for around $5. Chances are you risk more than that every time you eat at Taco Bell.
Corey Ray:
Much like with Biggio, the one knock against Southern League MVP, Corey Ray is his batting average. You may recall Ray as being the 5th overall pick in the 2016 draft. Chosen by the Brewers, and still considered to be their #2 prospect, Ray now has three professional seasons under his belt.  Over the course of those three seasons, his batting average has remained remarkably consistent.  In 2016 he batted .239, followed by .237 in 2017 and .239 this year.  Why then should we pay any attention to someone with over 1200 at bats in the minors and a career batting average less than 20 points higher than Zach Grienke? As is the case with Cavan Biggio, Corey Ray makes up for it in a plethora of other ways at the plate.  Ray achieved the rare feat of leading the Southern League in both home runs (27) and stolen bases (37) this season. If that weren't enough, he also tied for the league lead in doubles with 32, placed second in runs scored (86) and finished fourth in both triples (7) and runs batted in (74). Playing mostly center field, Ray also showed an improved arm this season with 8 assists.  While many former Southern League Most Valuable Players have faded into obscurity, some notable names of late to capture the award are Evan Longoria, Joey Votto and Paul Goldschmidt.  Once again, if you're not picky about which Ray autos you're looking to acquire, there are plenty including Bowman High Tek, Topps Triple Threads, Panini USA, Leaf Metal to name just a few that can each be had for under $10.
Bobby Dalbec:
Finally, one last under the radar player to look at is Red Sox prospect Bobby Dalbec. Playing for Salem in the Carolina League, he took home Most Valuable Player honors this season and is currently ranked by MLB as the Sox's #6 prospect.  The former collegiate pitcher has an excellent arm at third base, but does need to cut down on the 16 errors he committed in High A this season.  His .256 batting average also needs to improve before he will get his shot with Boston. However, what Dalbec does have in spades is raw power.  He split time in 2018 between Salem and the Portland Sea Dogs in AA. As a result he only appeared in 100 games in the Carolina League with 344 at bats. Yet, even with less times at the plate than many others in the league, he still managed to outpace everyone else in home runs (26) and runs batted in (86). When it came to slugging percentage, however, he was off the charts. His .573 SL% was 52 points ahead of second place and 89 ahead of third.  Only three players in the entire league came within 120 points of him in that category.  His 60 bases on balls was also good enough to boost his on base percentage to .372, good enough for 3rd in the league. The Red Sox's #1 overall prospect, Michael Chavis also plays third, which may block Dalbec's climb up to the majors. However, if he continues to show the kind of power he displayed this season, they'll definitely find a place for him. In the meantime, it may be worth taking a flier on his auto cards. Many such as his 2017 Topps Pro Debut, 2017 Topps Heritage Minors, 2016 Panini Elite and 2015 Panini USA signed cards can be had for under $10.  It's also worth mentioning that 60 years ago, another notable player in Red Sox history took home the Carolina League MVP award. His name was Carl Yastrzemski.
None of these players are the sure things that their more lauded contemporaries probably are. However, for those collectors that would like to stay within a reasonable budget these three are all intriguing prospects with little financial risk attached. I'd love to hear from anyone with suggestions for other players worth sharing with your fellow collectors. Please contact me at BreakingChad42@gmail.com with your comments or suggestions. As always, Happy Collecting!
-Chad Barres-Finch