Riiippp with Brody the Kid #4
Hi everybody! This month in Riiippp with Brody the Kid, we are going to talk about baseball predictions and my cards of prospects to look for in 2019. Finally, the big thing we are going to talk about this month is an interview I did with Chicago sports broadcasting legend Chet Coppock.
First, we are going to talk about the upcoming MLB season. Free agents Manny Machado and Bryce Harper are still looking for teams. The main teams for Harper look like the Phillies, Nationals, White Sox, Dodgers, and Yankees (maybe?). The Phillies, White Sox and Yankees are also interested in Machado.
Right now, I would think the Red Sox will win the World Series again this year. They were completely unstoppable last year.
Speaking of 2019, Topps Series 1 comes out in a couple weeks!!!!  Be sure to hit your stores to check those out, they look awesome.
What prospect cards are you looking for when you're collecting? Here are three of the ones I always hope are in my pack! First, Vladimir Guerrero, Jr. who has cards in all sorts of sets including Bowman, Bowman's Best, Bowman Chrome and more. He is the number one prospect in baseball according to mlb.com.
Next, Michael Kopech. He has had cards across the Bowman brands as well as Topps Heritage Minor Leagues. He did start a few games last year for the White Sox before getting injured and will miss the upcoming season, but he has a bright future and should have some cards in the Topps sets this year that I can't wait to look for.
The last prospect for this month is Bo Bichette.  Bo will be a little bit behind Vlad Jr., when joining the Blue Jays major league team, but he should be there very soon. You can find his current cards in the Bowman brand and some in Heritage Minor League and Pro Debut. Like Vlad Jr., he has posted some ridiculous numbers in the minors. And he has the flow!
Now I would like to introduce a new part of the Riiippp blog, where I will share with you three questions with someone involved in the hobby/sports world! I will be talking with some great people and I know you will like reading about them. They get three questions, and you get three answers!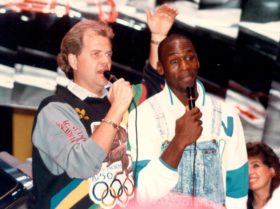 This month I was able to talk with Chet Coppock.  Chet is a longtime sports broadcaster in Chicago, covering all the major teams for decades.  He also has worked in Indianapolis and New York City. Chet was the youngest on-air reporter in Chicago history when he was 20 years old.  Also, which I think may be the coolest, starting in 1986, Chet worked with Michael Jordan doing radio and TV commercials for about ten years!  He currently works with the Chicago Blackhawks as well. He has done a lot of work in professional wrestling including ring announcing at Wrestlemania 2! He was the emcee of The National when it was in Chicago in 2017 and will be returning when the show is back in Chicago in 2019! (YES!!!  Who else is pumped for The National?!). Here we go!
I am a kid card collector and I know you were a card collector growing up. What are your favorite memories of collecting?
"My allowance was $1 a week. I would run to the drug store to get baseball cards, and I was looking for guys like Willie Mays, Stan Musial, Mickey Mantle and Ted Williams."  Chet remembers making a deal with a friend to buy a card of White Sox 3B Sammy Esposito for $1 and he has always kept it, because "it has enormous sentimental value".
How much were cards back then?
"Oh my gosh, you could buy a pack of 5 baseball cards for a dime, and you'd get bubble gum…but again, I'd take my dollar allowance and go buy ten packs of baseball cards."  Chet also mentioned he bought his first car when he was 17 for $100 and I couldn't believe it, because that is a box of cards now!!!
Last year, I worked for Topps as Brody the Topps Kid, so I was excited to hear you will be the emcee at The National again this year.  What is the biggest or most exciting event you have hosted?
"Wow, that's a great question…there was a baseball player by the name of Joe DiMaggio, the Yankee Clipper…I emceed the last banquet he ever spoke at in 1998, and he died a few months later, so that was very, very special to me." Chet also loved hosting NFL player banquets and ring announcing for Vince McMahon in the 1980's when Hulk Hogan and Randy "Macho Man" Savage were the stars.
My final question, if you could pick any player past or present to have an autographed card from, who would it be?
"Babe Ruth! Second would be Jim Thorpe.  Brody, google the name Jim Thorpe, and you will see why I would want his card."
There were a couple other things Chet said that I wanted to share. When talking about his career he said, "…the people I've met, the friendships I've made, the relationships I've established, that's really what means the most." This reminded me of friendships I've made at my local card shop and relationships I've made with people at Topps, at card shows and with other collectors!  Pretty cool.
Also, before saying good-bye, Chet told me, "Brody, while you're carving out your career, make sure you get good grades!" I am all about good grades and want all you other kids to get good grades, too!  Remember, Topps of the Class!!!!!!!
There you have it. That was Chet Coppock. Thank you, Mr. Coppock for your time! We will see you at The National in August for sure!!!!
Thank you everybody for reading this edition of Riiippp with Brody the Kid.   See you in February!
Riiippp,
-Brody