Tyler's Prospect Picks: Top 5 Players to Buy from 2019 Bowman Draft
Comp: J.D Martinez
-JJ Bleday is a 21-year-old outfielder from Panama City Beach, Florida and played baseball for Vanderbilt University. As a power hitting outfielder, Bleday excites all Marlins fans and gives the organization hope that he can help spark the team. He played with Jupiter and recorded a .252 batting average and 4 long balls. I would expect big things to come from this young phenom.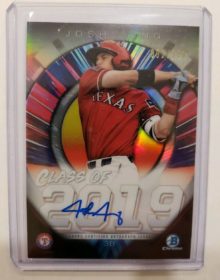 Comp: Chipper Jones
-Jung has a very impressive track record and his tools are off the charts. I would expect him to be a middle of the order bat with an impressive average and solid home run numbers. The most impressive tool in Jung's arsenal is his cannon at the hot corner. Displays very quick reflexes, hammers pitches anywhere in the zone and always seems to be on base. Jung has spent his whole life in the lone star state so I would expect for the fans to love this kid. He has the potential to be the face of this beloved franchise.
Comp: Paul Goldschmidt
-This young slugger has excelled at every level he has played at. He went undrafted out of school and went on to play college ball in California. After putting up a .374 batting average and an impressive 15 bombs. 2018 Golden Spikes award winner… I would expect him to grow larger and stronger as he progresses, and I would expect game-changing power with little effort. Lots of projection and great athleticism for his size.
Comp: Mookie Betts
Bishop is something special… it is very rare to find an athlete of this size, Hunter doubled as a standout wide receiver in high school and has a natural big-league body. He has a very special combination of speed, athleticism, and power. Played at Arizona state and hit .342 with an impressive 22 longballs. Even though he slipped in the draft to the tenth pick. I expect bishop to be the face of the franchise type of player for whichever team he ends up. Has potential to be a star at the big-league level.
Comp: Matt Wieters
Adley is an obvious athlete and exhibits incredible tools and his ability to hit for power and be an elite defender behind the dish is very rare. With a cannon arm and a very powerful bat…As long as he can stay healthy, I project him to be star at the major league level.
Honorable mentions:
Kody Hoese (Los Angeles Dodgers)- 25th Overall Pick
Rece Hinds (Cincinnati Reds)- 49th Overall Pick
Brett Baty (New York Mets)- 12th Overall Pick
– Tyler