Inside the Pack: 2019 Topps UFC Knockout Review

If you're looking for hits, 2019 Topps UFC Knockout packs plenty of punch. Each pack contains one guaranteed auto and one guaranteed relic. With 4 packs per box, you're looking at 8 hits. That's in addition to the inserts and parallels included in each pack.
Topps sent me a box of Knockout to review and it was loads of fun to open. The base cards are very simply designed, with action photos on the front and a short biography on the back. Card orientation changes between horizontal and vertical; I preferred the horizontal photos because they provided a much better action shot.


The middle of the pack is home to both hits. In my four packs, I got a first autograph card of Aspen Ladd #/99, an auto/mat relic of Tatiana Suarez #/99, an auto/relic of Sean O'Malley #/99, and a purple auto of Sean O'Malley #/25. The base autographs are on card, while the auto relics have sticker autos. O'Malley is an undefeated fighter, but was suspended last year for violating leagues anti-doping policy. That said, he is scheduled to return in July and there is a lot of excitement around his next fight. Ladd, also undefeated, just won her eighth match about a week ago and is one of the most exciting female fighters out there today.
Relic cards are a mainstay in UFC Knockout. I got a base relic #/150 of Khabib Nurmagomedov, the Russian fighter who currently owns the longest undefeated streak in MMA. My other single relic was a blue parallel #/50 of Brazilian fighter Rafael dos Anjos. My jumbo mat relic of another Brazilian, Amanda Nunes, was also a blue parallel #/50. My dual relic was a purple parallel #/25 of Daniel Cormier, the reigning UFC heavyweight champion.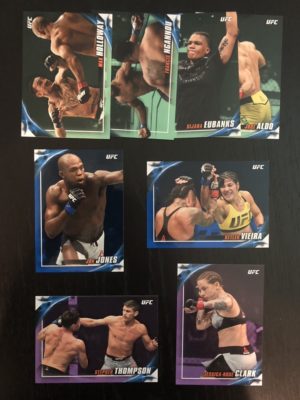 For baseball card devotees, there's a familiar feeling coming from the Fire insert set, seeded 1:8 packs, or every other box. This insert set uses the design from the retail-only Topps Fire baseball set. There are also Fire autographs, though I didn't receive one.
Colored parallels abound and appear at the end of each pack. I received 4 green #/149, 2 blue #/88, and 2 purple #/25. The purple was the most attractive parallel to me; I'm usually partial to blue parallels, but in this case, the blues look much too similar to the base cards, which already have a blue color palette.
2019 Topps UFC Knockout is loaded with hits and parallels. Whether you're a fan of MMA or not, you'll have fun opening this product. You could even try your hand at a single pack, but my guess is that you'll be itching to open the rest of the box if you do.