Inside the Pack: 2019 Topps Major League Soccer (MLS) Review
I would venture to say there are few things in the world I know less about than soccer. I don't really understand the game, I have no idea about the teams, and I definitely don't know the players, unless David Beckham and Pele are still playing. (Are they?) So when Topps sent me a box of 2019 Topps MLS to review, I didn't know how to feel — and I certainly didn't expect to know what the heck I was looking at as I opened the packs.
Fortunately for me, Topps disarmed my uncertainty from the very first pack I opened with the inclusion of a card in the style of a 1984 Topps baseball card. It was strange seeing soccer players on this old familiar design, but it was comforting to recognize some element of this very foreign product.
In addition to the 1984 Topps-style inserts, I also pulled more familiar friends in the form of All-Star cards that followed the 1989 Topps design. While there have been plenty of cards over the years mimicking the aforementioned 1984 design, the 1989 All-Star design hasn't been reused as frequently, so it was a welcome addition to my box break.
As far as base cards go, I really like this design, perhaps even more than the 2019 flagship MLB product. Player names are easy to read, team logos are present on the front but not too large, and although there is no border, the designs in the corners help focus attention on the image. The back, however, is light on information. I didn't see any cards with more than 3 years of statistics, and none had career stats noted. The backs also contained only 2 sentences of biographical information (usually a career highlight or an anecdote) and a good amount of dead space. It was also vertically-oriented, a big change from the horizontal backs I'm used to in flagship Topps baseball products.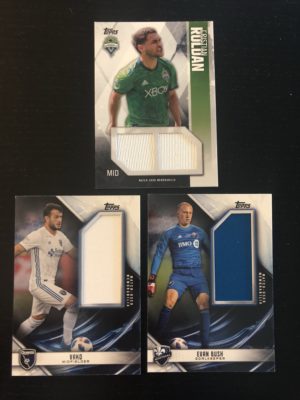 Strangely, no autographs are present in this product. Instead, boxes promise two jumbo relic cards and one dual relic card. All 3 of my cards were serially numbered, though I'm not entirely sure how the print run determination was made, since one of my jumbo relics and the dual relic were #/220, while a second jumbo relic was #/215.
Parallels were plentiful and for me — again, someone who has no idea who these guys here — the highlight of the product. I received one photo variation of Albert Rusnak (is he good?). I knew something was different about this card only because it was placed upside-down in the pack, and looking at the small code on the bottom of the card's reverse confirmed this fact. But the real winners as far as I was concerned were the color parallels. I received 3 blue (#/99), 2 gold (#/50), and 1 yellow (#/25). The colors are bright and beautiful and really stand out against the dark accents on the card's corners. Getting 6 parallels in a box was really nice too, especially with all of them numbered to a double-digit number.
Overall, this was a fun rip even though I have no idea about anything I ended up with. Despite the lack of autographs, the product has beautiful parallels and three relic cards to look for. If I enjoyed it without knowing what I was looking at, I can only assume that an actual soccer fan would like the product.