Inside the Pack: This NFL Hall of Famer's Only Card is in the 1955 Bowman Baseball Set
The 1955 Bowman baseball set is an underappreciated and undervalued masterpiece. As the last Bowman set before Topps purchased the company, the 1955 issue has all the trappings of an iconic set: Mickey Mantle and Hank Aaron, an innovative design, color photography, and short prints. Chief among these high number short prints are umpire cards, highly sought-after by collectors for their uniqueness. Hidden among the umpires is the first and last regular-issue appearance of a man in the Pro Football and College Football Halls of Fame. Card #315 belongs to Cal Hubbard.
Hubbard was a star tackle for the Green Bay Packers and New York Giants between 1927 and 1936, playing a position similar to a modern linebacker. (In fact, Wikipedia credits him as being one of the creators of the linebacker position.) He won the championship with the Giants in his 1927 rookie season, then was a part of the Packers teams that won 3 straight titles from 1929 to 1931. When the Pro Football Hall of Fame inducted its initial class in 1963, he was one of the inductees, and in 1969, he was voted by the Hall of Fame committee as the greatest tackle of all time.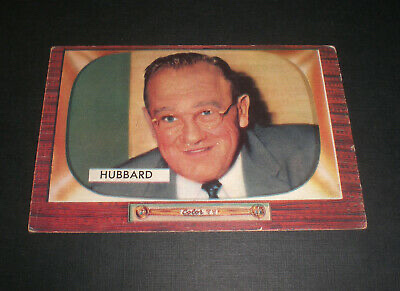 Now, you may be asking: What's this guy doing in a baseball set? Well, this Pro and College Football Hall of Famer is also enshrined in the Baseball Hall of Fame in Cooperstown. During his football career, Hubbard spent his off-season as a minor league umpire. Upon completion of his football career, he moved up to the majors, where he worked as an on-field ump for the American League from 1936 to 1951. He earned plaudits for his work, and was selected to umpire for the 1939, 1944, and 1949 All-Star Games, as well as the 1938, 1942, 1946, and 1949 World Series. Beginning in 1952, after sustaining eye damage, he moved into a supervisory role for the American League, and from 1954 to 1969 he was the head umpire supervisor. It was in this role that Hubbard was selected for inclusion in the 1955 Bowman baseball set.
So, how did it come to be that the only man to be selected to the NFL and MLB Halls of Fame had only one regular-issue card? It's simply a matter of happenstance. Hubbard's football playing career didn't coincide neatly with football cards. The 1935 National Chicle set was the first set to feature NFL players. It had just 36 cards, but even if Hubbard, a tackle nearing the end of his career, would have been good enough to make the cut, there was a problem: he didn't play the season before, in 1934, because he had temporarily retired to take a job as a line coach at Texas A&M. Issues prior to 1935 simply didn't contain enough football players to warrant the inclusion of Hubbard, as they were usually limited to superstar household names like Knute Rockne, Jim Thorpe, and Hubbard's teammate, Red Grange. 1955 Bowman was the first set to feature umpires and, fortunately, the good folks at Bowman saw it fit to include this umpire supervisor. Otherwise, we'd have no regular-issue cards of this College Football, Pro Football, and Baseball Hall of Famer.
Hubbard's only card is, in my opinion, a steal: low grade raw copies sell in the $10-$20 range, while you can get a PSA 5 for around $30 and a PSA 6 for around $70. Not bad for a high number short print of anyone, let alone this fascinating subject.