Inside the Pack: The Greatest Modern Set
How many sets contain rookie cards of up to four potential future Hall of Famers, a slew of other star rookie cards, base cards of legends of the game, unique parallels, and beautiful design and photography? Amazingly, in this era of mass-produced products, we have been lucky enough to be graced with one such modern set: 2011 Topps Update. This set is most known for its rookie card of Mike Trout, but to focus on that one card is to ignore a host of other amazing details about this incredible issue.
Topps Update (formerly Traded) sets have historically not been strong offerings. In 1974, Topps introduced its first Traded set, which consisted of portraits of players with a giant yellow TRADED banner. There have been some terrific rookie cards in Traded sets over the years, namely Tim Raines in 1981, Cal Ripken in 1982, Barry Bonds and Bo Jackson in 1986, Ken Griffey Jr. in 1989, and Miguel Cabrera in 2000. But by and large, the players in the Traded sets were either guys who were never going to amount to anything, good players who played on teams you have almost certainly forgotten about (Tom Seaver on the Red Sox!), or managers.
Regardless of whose name and photograph appeared on the card, all of these cards had one thing in common: staged photographs.
For years, the Traded sets had staged portraits, or perhaps a staged photo of a player with a bat or holding a baseball. It was a common theme from card to card: boring pictures of mostly boring players, with the occasional hot rookie mixed in.
Not so in this set! 2011 Topps Update has beautiful photography, with action shots of players from real ballgames. The design is minimally intrusive, with a simple player name banner at the bottom and a clean white border. In addition, the set for Topps's 60th Anniversary has some of the most beautiful parallels of all time in the Diamond Anniversary, Hope Diamond, and Cognac Diamond parallels.
Along with Trout, who is a surefire Hall of Famer once he hits 10 years of service, 2011 Topps Update also contains rookie cards of the following potential future Hall of Famers:
Jose Altuve, #US132. Altuve made a national name for himself during the 2017 World Series, but he was already well-known in baseball circles. The 5'6" Houston Astros second baseman already has over 1,250 hits entering his age-28 season, putting him well on the trajectory for 3,000 hits. And with 5 All Star Game appearances, 4 Silver Sluggers, and a Gold Glove to go along with his 2017 MVP award, he's padding his resume.
Paul Goldschmidt, #US47. Goldschmidt entered 2018 with a .299/.399/.532 career slash line, and 176 home runs to go along with 117 stolen bases. Considered one of the best defensive first basemen of his era, he has 3 Gold Gloves along with 5 All Star Games, 3 Silver Sluggers, and 3 top-3 MVP finishes. Another few solid seasons in his early 30s and he likely punches his ticket to Cooperstown.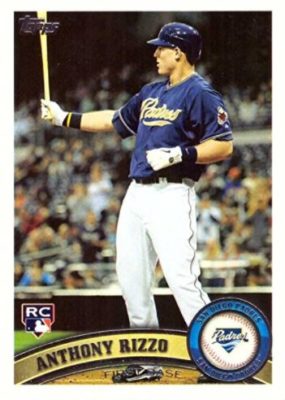 Anthony Rizzo, #US55. Rizzo is the de facto elder statesman of the Chicago Cubs, despite entering his age-30 season in 2018. On this card, he's shown in a Padres uniform, his short-lived stop between Boston and his current home of Chicago. Rizzo entered 2018 with a 130 career OPS+, 4 All Star Games, 3 top-10 MVP finishes, a Gold Glove, and a Silver Slugger. He has a tougher road to Cooperstown due to his relative late start, but his personality and his big market team may help his cause.
In addition to these players, the set offers rookie cards of stars such as Eric Hosmer, JD Martinez, Charlie Blackmon, Kyle Seager, and Eric Thames, as well as cards of legends Hank Aaron, Ty Cobb, Derek Jeter, and David Ortiz, among others.
Given the presence of established Hall of Famers, rookie cards of future Hall of Famers, beautiful photography and a simple but interesting design, 2011 Topps Update is undoubtedly the greatest modern set, and, when all is said and done, may be one of the greatest sets of all time.