Inside the Pack: 2020 Topps Heritage Review
As long-time readers of this blog may know, 1971 is my favorite Topps design off all time, and the only vintage set I ever put together and kept. So words can't describe the excitement I've had for the last few months waiting to see the new 2020 Topps Heritage design, an homage to the '71 set, in person. With its black borders, photo on the back, and horizontal cards peppered in throughout the set, 1971 was a groundbreaking year for Topps, so I was stoked to see its transformation into a modern product.
Boxes come with a box topper. The most common is the Greatest Moments jumbo, which I got. This is a nice homage to the '71 Greatest Moments test set, which is incredibly difficult to put together nowadays. My card was of Baltimore Orioles great, Jockey underwear spokesman, and Hall of Famer Jim Palmer.
My first pack revealed a Chrome purple refractor, an indication that I was working with a hot box. The purple refractors are only available in hot boxes, and in those instances they appear in every single pack — even packs with an additional insert or variation. I got some big names of the purple refractor variety, including Miguel Cabrera, Gleyber Torres, and Aaron Judge, but none was bigger than the Yordan Alvarez/Aristides Aquino dual I received about halfway through my box.
Short prints, as usual, are the higher numbers in the set, and appear one in every three packs. As has been the case the past few years, Topps seems to reserve some of the best players for the SPs. I received stars like Shohei Ohtani, Bryce Harper, Pete Alonso, and Vladimir Guerrero, Jr., as my shortprints.
Variations abound each year in Heritage, with color swaps, team name swaps, nicknames, and photo variations dotting the checklist. The first variation I pulled was a mini of Indians star Jose Ramirez that was numbered to 100 copies. Ramirez dealt with some injuries last year and had a fairly down year after two 3rd-place MVP finishes in a row, but I'm expecting a nice rebound season this year. The other variation I got was a Gavin Lux "action" variation. I put action in quotes because, well, most action variations have an action photo. This one doesn't — it's Lux kneeling, rather than the base card which he shares with Dustin May as a dual rookie stars card.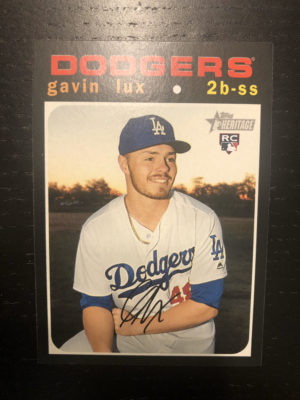 Yes, I got a chrome purple refractor hot box, but besides that, I was surprised at how tough chrome parallels are to pull. Seeded at just 1:60 packs, they fall every 3 boxes on average, with refractors at a 1:106 rate. I was lucky enough to get a chrome card, and even luckier that it was of the biggest star in the game, Mike Trout. As usual, the base chrome cards are serially numbered to 999 copies.
The standard Heritage inserts return with a new design to bring them in line for the '71 design. I'm always impressed at how seamlessly Topps can take these insert sets and design them in such a way that they feel familiar and in line with previous iterations of Heritage, but still fit the design of the original vintage set. While it's usually my least-favorite of the insert sets, this year I particularly enjoyed the New Age Performers, which featured a background of groovy color and a slim yellow border that stand out against the card's black border.
Each box comes with one autograph or relic card. I got the latter — a Clubhouse Collection jersey of 2018 NL MVP Christian Yelich. Interestingly, despite the black-bordered theme of the set, the relics switch things up with a white border. It's a nice contrast to the "dark mode" that is this set.
Needless to say, as a '71 fan, I love this set. I also like the homage to the original that Topps did — little things like making Gary Sanchez card #5, which was Yankees catcher Thurman Munson in the original set. They also mimicked the pose on the Munson card, an incredible tribute to what I've often written about on this blog is my favorite card of all time. 2020 Topps Heritage has all the makings of one of the great Heritage sets. With star rookies, great parallels, a solid short print checklist, and a beautiful design, it's very possible this set will be looked back on as one that can stand on its own even separately from the source material, similar to the inaugural 2001 Heritage version based on the 1952 design.
Note: This product was provided by Topps for my unbiased review.