About Big League Sports & Pokemon Cards
Big League Sports & Pokemon Cards opened in 1992 and has been voted the nation's best card store for 2 consecutive years (By Krause Publication, The National Football League and others).
Big League is known nationwide for being one of the most interactive and collector friendly stores in the country. Store features include:
• The Nation's Best Membership Program (thousands of members)
• Frequent Buyer Program – "Thank You Box"
• Always Great selection and prices on the hottest wax
• Extensive selection of supplies
• Vintage singles and wax
• Hot singles and local favorites
• Weekly and Monthly Store Events
• Trade Nights – Customers Buy/Sell/Trade
• Free Fantasy Sports Competitions
• Good Student Rewards
• Little League Giveaways
• Set-Builder's Section
• Reference Library
• And so much more…
https://youtu.be/CpgYpvCyrHU
Big League Sports & Pokemon Cards is owned and operated by Alan Narz, who is very proactive in the hobby industry.
A consultant to the Topps Company, the NFL, MLB, Alan is the author of over 100 industry articles published by Krause Publications.
In 2005, Alan was named One of the sports collectible industry's 20 Most Influential People of the Past 20 Years by the official Industry Trade Conference, also included on the list were the founder of eBay, Topps, Upper Deck, PSA, etc.
Alan is the listed inventor of the very popular Topps Rip-Card. Alan calls this his favorite invention of all time and is proud to have been featured on an Allen & Ginter Mini Card.
Alan is also known for his role as the Topps TV "Ripmaster", and was featured on a card which was inserted in 1 out of every 5 cases of 2008 Topps Finest Baseball.
Alan developed the very popular Retailing for Success conference, which has been attended by several hundred card stores since 1998.
Retailing for Success is based upon the retail practices and promotions of Big League Cards. The conference includes Card Store Retailing topics such as: Pack Wars, Fantasy Sports, Trade Night, School Programs, Little League Relations, Birthday Parties, Bid Board, Press Releases, and more.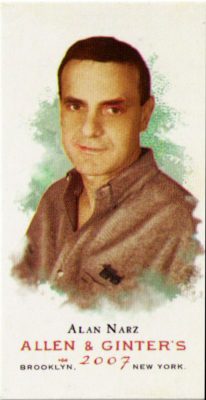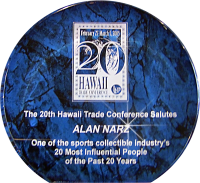 Big League Sports & Pokemon Cards
920 State Road 436 Casselberry, FL 32707
(in the Casselberry Square Shopping Center behind Buffalo Wild Wings)
407-834-2273
Hours:
11am-6pm Monday – Saturday